One of the Most Visited Places of Costa Rica by foreign and local tourists is the Arenal Volcano area, located near the town of La Fortuna in the Province of San Carlos. The reason why so many people visit the area is not only because of the amazing view of the volcano, but also for the high amount of activities that can be done in the area, like Zip Lining, Waterfalls, Horseback riding, Nature Hikes, Hanging Bridges, and many others; but the most important reason people come to this region is to enjoy of the famous Arenal Hot Springs.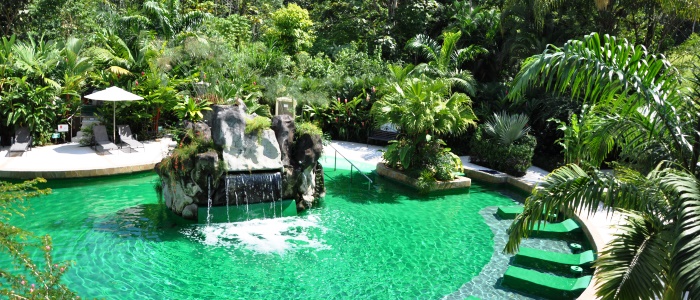 The Arenal Volcano area is known for its large amount of Hot Springs; however, just like everything, some are better than others. Hot Springs are springs of water produced by geothermally subterranean heated water by volcanic activity, this water is usually picked up by volcanic veins that are then transformed into rivers. These waters are so hot that if the high temperatures are not regulated, then it can cause severe damage to the skin. Fortunately, the hot springs of this area have the temperature regulated to the T so no one gets hurt. As mentioned, the water from the springs come from a volcanic vain, therefore they have a lot of minerals. Hot Springs are not only for bathing, but for therapeutic purposes as well; for example they hold high amounts of Baron (Strengthens bones), Magnesium (Converts Blood Sugar to Energy), Sodium (alleviation of arthritic symptoms) and Potassium (reducing high blood pressure, helps to eliminate body toxins) and many more.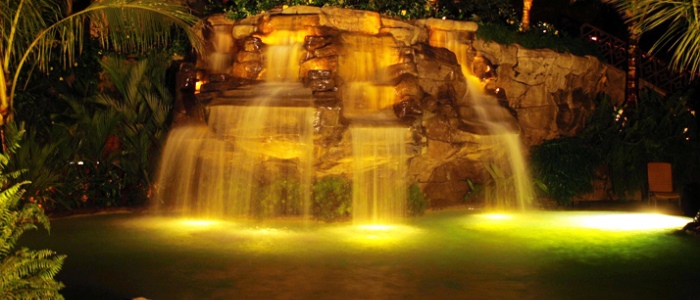 In this whole area, the most famous Arenal Hot Springs Park is called Tabacón Grand Spa; and it's safe to say that Tabacon is one of the best hot springs locations in the world. This one is the most upscale Hot Springs Park in the country because of the fact that it's so luxurious and also has its own 5 star hotel next door. Tabacón is a family friendly Hot Springs Park, however, it's directed towards couples and newlyweds, considered the most romantic hot springs and hotel in all Costa Rica. The hot springs are made up of 5 pools, ranging from the main pool that has a swim-up bar, some cold-water pools in the middle of the rainforest and 3 of the 5 are cascading thermal waterfalls. The Shangri-La garden which is located in the middle of the Rainforest is meant to be for Adults only, to be able to have a more private intimate time. This is one of those places where you need to come and see for yourself the beauty it holds.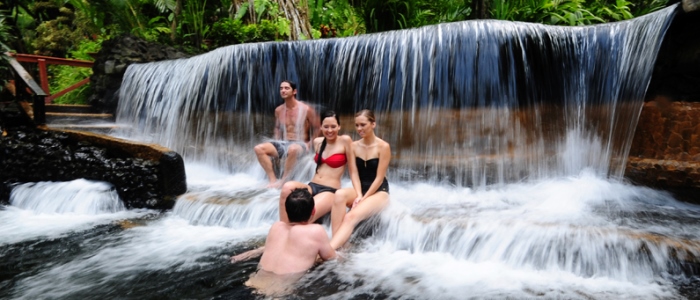 Another great option for Arenal Hot Springs is "Paradise", one of the newest-fancy thermal parks of the area. Paradise Hot Springs is definitely a place to relax, since they play nothing but soft music, and their ample beautiful gardens that surround the pools will give you the peaceful mind-set to fully enjoy of the whole thermal experience, with great views of Arenal Volcano. This place is not as big as other parks of its kind, but the way their gardens are designed is really impressive and worth seeing. Some of the pools have beds inside the thermals in order to get the best of it all, relaxation with your body inside the pool and at the same time catching some rays, not to mention that 2 of the main pools have thermal waterfalls and to intensify your relaxation, spa service is available on site. This place really lives to its name and you are bound to feel relax with a sense of paradise at your fingertips.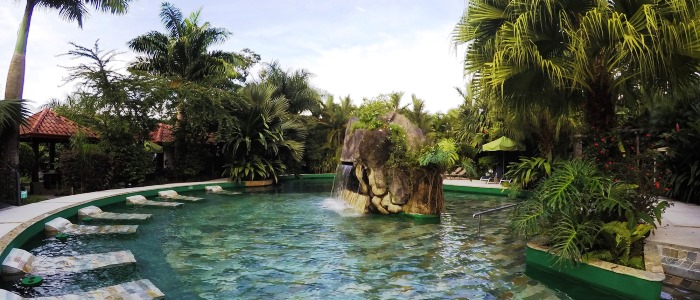 Baldi Hot springs is the biggest hot springs park in Costa Rica; it is basically a mini theme park with hot springs available for use, this one also has its own hotel and spa. Baldi Hot Springs has a total of 25 pools ranging from very Hot Springs pools to Cold water pools. This park also features water slides, water pipes and lots of bars. Baldi also has an area called Baldi Kids, this area holds a kiddy pool and some water slides intended for children, not to mention that it has a play area in its surroundings safe for you to relax in the thermal waters while your kids are away in their area. Overall Baldi Hot Springs is like a water park that meets hot springs, beautiful gardens and views of Arenal Volcano.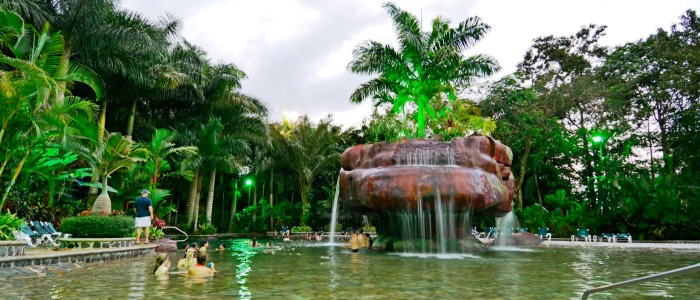 Now for those looking to stay on the more economical side, the Arenal Volcano area has a place that we call locally the "Chollin" or "Tabaconcito". This is a river of thermal waters located on the side of the road next door to Tabacon, which is accessible to the general public at no cost at all. This river is also fed by volcanic thermal waters, and is visited by locals mainly on the weekends.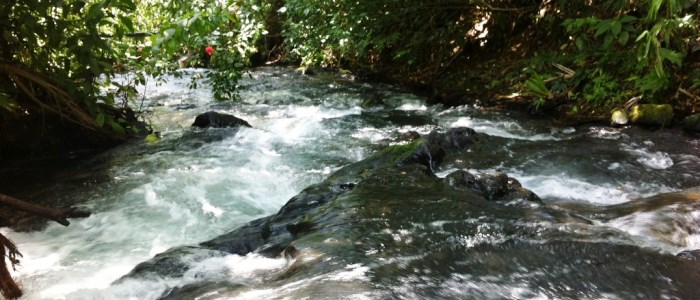 So if you are visiting Costa Rica and stay around the Arenal Volcano area, we definitely recommend visiting any of the Arenal Hot Springs of your choice.