Today I will talk about a magical place in Costa Rica; and I know, every single touristic website you have encounter that offers touristic services to the country refers to all the places as "magical" or "wonderful", or use other similar terms to describe them, but this place I'm mentioning is truly something else!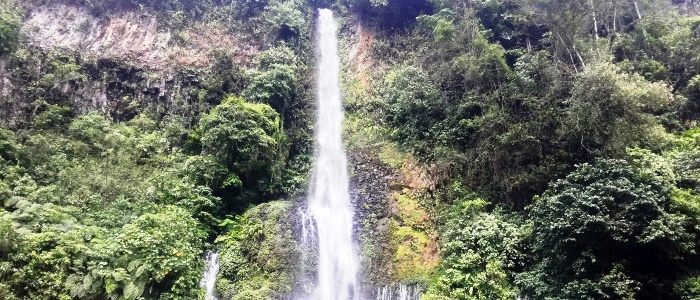 The name of this place is "Waterfalls Paradise" and believe me, the name REALLY fits, because I've traveled throughout the whole country and have seen extremely beautiful places, but this one has a few elements that make it unique. Waterfalls Paradise is located at the unexplored area of "Bajos del Toro", which even though is only 1.5 hours from the Capital City of San Jose and VERY beautiful, there has not being an aggressive investment in tourism, as it has been the case in several other parts of Costa Rica with pretty scenery (at Bajos del Toro there is only one Luxury Hotel called "El Silencio Lodge", a couple of places that offer Horseback Riding Tours or Mountain biking tours, some rustic-modest cabins for accommodations and that's basically it). The Waterfalls Paradise location is not fully developed either, and because of this is not recommended for anyone; the place thus far is appropriate for people in good physical shape only, who are able to walk up and down inclined terrain and don't mind muddy trails or walking on rocks. The management says that they will be investing a lot of work on the trails in the upcoming months, as far as building steps, railings, etc., to make it accessible for more people, and if this is the case, we more than likely be doing a tour there in the near future, because as mentioned earlier, the place is really unique.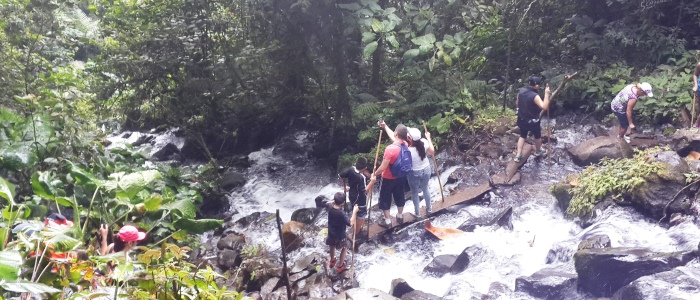 But let's now talk about the place itself. Waterfalls Paradise is just a about 400 meters from the main road that communicates Bajos del Toro with the Arenal Volcano area, and once you arrive it doesn't seem to be the nicest place, but as you go down the flat-dirt trail, the rainforest vegetation starts appearing and the scenery gets nicer; and once you enter the forest trail, the tour gets better and better.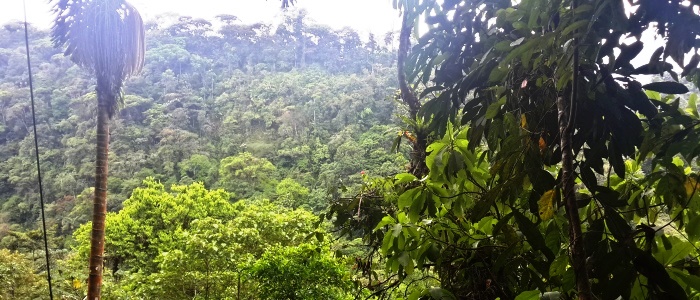 Just a few minutes later you would be able to see the first waterfall immersed in the beautiful rainforest jungle. After continuing walking for another 10 minutes, you will be able to see the second waterfall, this one much bigger and located in an opened area, ideal for those who love to photograph waterfalls and nature overall. But the best part is still to come; after walking down for another 10 to 15 minutes you will arrive to the river bed of the "Toro Amarillo River", a river that begins at the famous Poas Volcano, one of the active volcanoes of Costa Rica. This place is a wide opened area where there are a total of 5 waterfalls with various heights, being the tallest at 80 meters (250 feet!); all of them falling on the river bed with several springs that also fall from the surrounding walls and with several pools where the visitors can take a refreshing dip or swimming.
Waterfalls Paradise could be the ideal place to take a One Day Tour from San Jose, or just a nice stop for those people who are traveling to other places like the Arenal Volcano area, the Sarapiqui Rainforest area, or any other touristic destination located on the Northern Plains of Costa Rica. This place also has a rustic restaurant where they normally serve Tilapia Fish or Costa Rican Typical Food.