For those of you staying in Guanacaste and looking for an all in one adventure tour, the Guachipelin Adventure Combo is the best option for you. In the area of Guanacaste sits the beautiful 3400 acre Hacienda Guachipelin in the foothills of Rincon de la Vieja Volcano.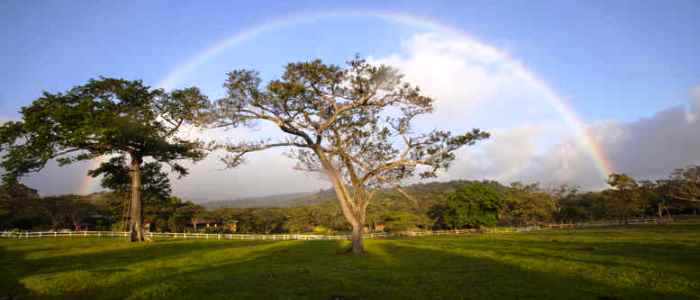 Hacienda Guachipelin is a beautiful family owned ranch and was founded back in the year 1985 by the Batalla family. It started out as a ranch and it's now transformed into what we call it, the panicle of an eco-tourism park. Hacienda Guachipelin has numerous amounts of activities that make it a great choice for adventurers, it has over 15 different activities that can be done in one single place, but what makes this location so special, is not just the large property and diverse activities to choose from, but also that its next door neighbor is the , not even a celebrity will make such great neighbor than the Volcano.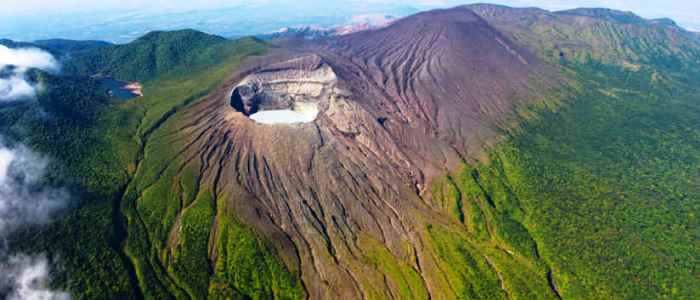 Let's go ahead and talk about some of the amazing activities that take place in this lush and lovely Hacienda during the . As mentioned before, this location offers more than 15 activities in one single place, let's start out with tubbing. Tubbing is done in the Rio Negro River, this is an activity that is stretched out throughout a 2.5 hour ride where not only will you be floating down this beautiful river, but you will also get a chance to soak up the beautiful view that this area is known for. On the higher level of adrenaline there is the Zip Lining adventure, where 7 zip lining cables await you along with 1 hanging bridge to cross, 2 Tarzan Swings where you can scream your lungs out and let out some stress and feel the rush of rappelling down a 65 foot drop. Now save some energy because you are going to needed it when doing natural rock climbing, the rock climbing consist of a dry rock climb that is quite a challenge, but you will have the help of the local guides who would pull you up from your hardness if having trouble. The last adventure activity would be the horseback riding, prepare yourself to ride a horse like a real "Sabanero" of Guanacaste through the beautiful pasture lands and forest, ending your ride in a beautiful waterfall setting. You will be hungry at the end of so many activities and the staff at Hacienda Guachipelin will be ready to serve a delicious Costa Rican lunch at their traditional hacienda style restaurant, as part of the great experience that this tour represents. So there is a lot to do so come prepared to pack yourself with intense adrenaline and a good time.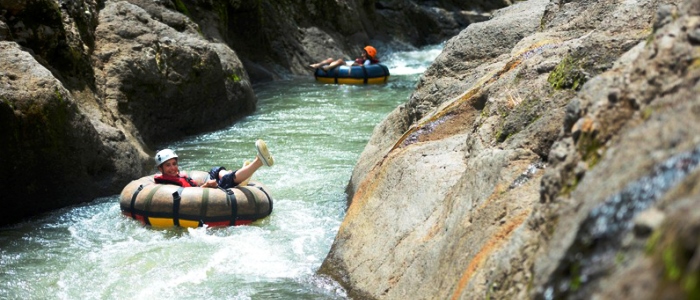 As mentioned, most of the activities are related with adventure and adrenaline, but it's that time to kick back and relax at the Hot Springs and the Volcanic Mud Spring as well. To me paradise is where peace, tranquility and breathtaking views combine into one; the Hot Springs at Hacienda Guachipelin is my little representation of paradise in Guanacaste, why? The thermal waters from the Rincon de La Vieja Volcano flow through a river that ends on 10 man-made pools that are filled with tempered thermal mineral-rich waters (the thermal waters that come directly from the volcano are so hot that can cause damages to the skin, therefore the waters are tempered to prevent this), that will help you not only relax but the minerals have positive impacts on your skin and on your body in general; combine that with beautiful thick green forest views and that definitely screams out relaxation. After you have taken yourself out of Zen mode, ending up in the Mud Springs, the heated volcanic clay will be sure to rejuvenate your skin and relax your body from all the fatigue accumulated from daily activities, afterwards when the clay has adapted and dried on your skin, wash off under a cool shower, then jump back into the hot springs to wrap up your "Spa Like" treatment and finish your Guachipelin Adventure Combo in the best possible way.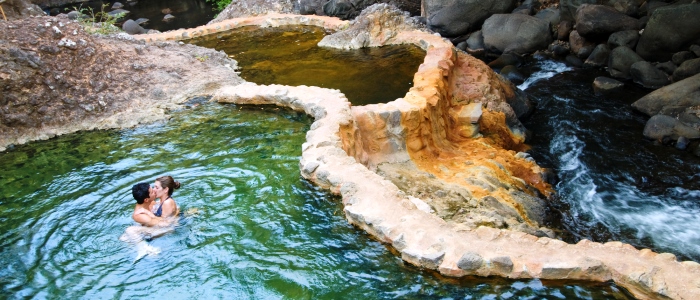 These are all the things that you can expect during your Guachipelin Adventure Combo, we encourage you to come try it for yourself and become delighted with so much surrounding beauty and things to do; one thing is for you sure, you will not get bored in this lovely place. So go ahead and contact your Go Tours travel expert and we would gladly arrange this activity for you, or any of our .