The Manuel Antonio National Park is one of those places that we can consider a mix of what really represents tourism in Costa Rica. Here you can find a very lush-beautiful tropical rainforest, lots of wildlife and one of the most beautiful beaches of the world!
Feel free to click the section to skip to it
Location
Manuel Antonio National Park map
The Manuel Antonio National Park area is very well developed for tourism, as a matter of fact, is one of the 2 most developed touristic towns of the Central Pacific Region of the country. People ask me all the time "why do you recommend so much for us to go to Manuel Antonio?" and the answers are very simple:
Wildlife
It is very easy to see wildlife there, actually, I cannot think of other place in Costa Rica where one can see monkeys so often and so close, because literally, you could touch the monkeys if you wanted to do it, although, I never recommend to touch a wild animal of any kind because you never know how they are going to react… The reason why is so easy to see wildlife here, is because the Manuel Antonio National Park is very small (is actually the smallest of the 28 national parks of the country), made of only 1,983 hectares (4,957 acres), that are isolated from other protected lands, therefore, wildlife is abundant and never get out of the park-area, because is surrounded by agricultural farms where the wild animals don't travel through.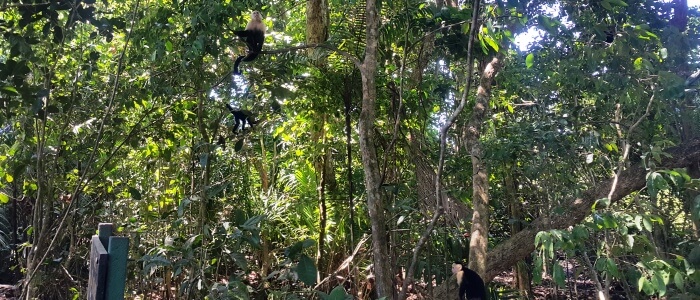 Beaches
The beauty of the Manuel Antonio National Park beaches is unique; there you can enjoy of a contrast between white sand beaches and a lush-green rainforest in the background. This is a sight not very common to find, in fact, this park was in the Forbes top-10 most beautiful national parks of 2011.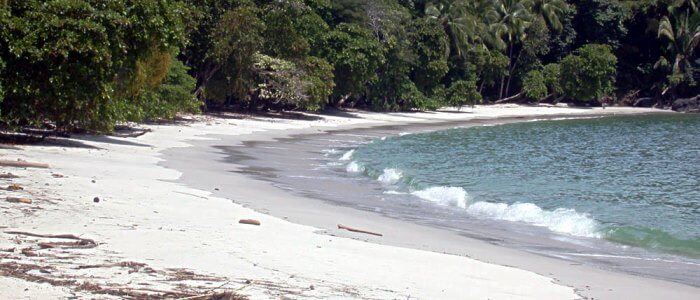 Scenic Beauty
Because of the incredible natural beauty of the whole area, even outside Manuel Antonio National Park, one can enjoy of the best views of Costa Rica from the many restaurants or hotels that have been built up on the hills, from where you can get panoramic views of the jungles, the ocean, the many small isles and the peninsula of the national park called "Punta Catedral".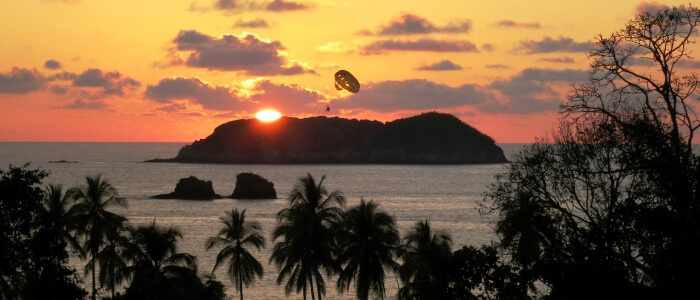 Convenience
You'd be able to find an endless amount of restaurants that offer a wide array of menus of international and local cuisine in a 7 kilometer stretch (3 miles), from the town of Quepos to the entrance of Manuel Antonio National Park. In that same 7 kilometer stretch, you can also find lots of hotels from all price ranges, from hostels to 5 stars; some close to the beach, but the vast majority up on the hills, many of them with incredible views.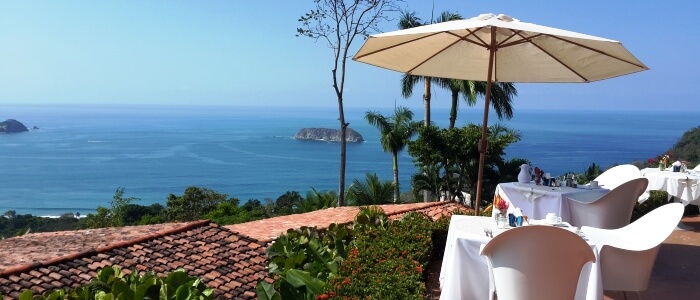 Activities
Last but not least, I recommend to go to Manuel Antonio National Park because of the many activities that can be done there, like , , fishing, , , surfing, spending time at the different beaches, or going to the mountains nearby which is only a 30-40 minutes ride, where many other activities can be done like white water rafting, , , hiking, , swimming in waterfalls, riding ATV's, etc. No wonder Manuel Antonio is the second most visited national park of the country, with approx. 150,000 visitors every year.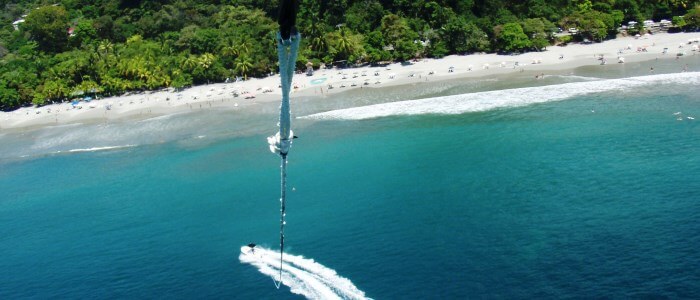 History
In pre-Columbian times, the Manuel Antonio National Park area was populated by the native tribe called "Quepoa", that's why today's main town is called "Quepos". In colonial times the whole region was dedicated to agriculture and farming, but in 1,972 the Manuel Antonio National Park was created, in order to protect the largest patch of forest left that it was not used for farming and to also protect the many species of animals found there. The park is also a marine sanctuary made of 55,210 hectares (181,088 acres) that protects dolphins, migratory whales and a large variety of marine life.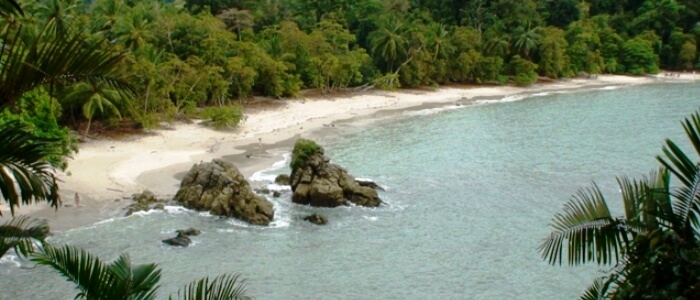 What to bring
Fresh comfortable clothing (shorts and T-shirt)
Sneakers
Sunblock
Insect repellent
Swimwear
Sandals
Towel
A change of clothes
Camera
Follow us on Facebook to see great pictures and information about Costa Rica
Read about more national parks in Costa Rica
Juan Castro Blanco National Park