Birds with relatively large beaks, omnivores and with a lifespan of 15-20 years, they do not stop bringing up attention for their peculiar beauty and song, in Costa Rica we have 6 different species of toucans, which have been characteristic in many types of publicity related to our country. They extend along the coasts and mountains, and thanks to efforts in conservation, they are being seen again in the central valley, in this blog we tell you in details about these peculiar species that make these lands an even more beautiful country.
List of toucans in Costa Rica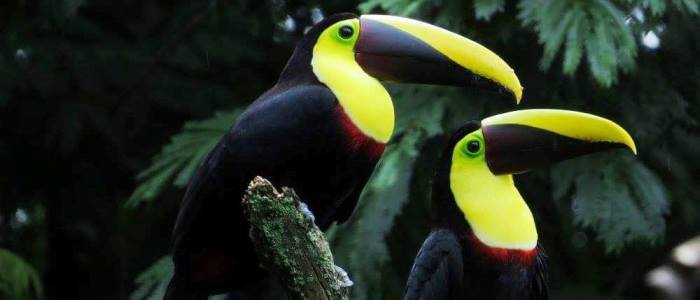 Keel-billed toucan: (Ramphastos sulfuratus)
Thanks to its striking colors and its large beak, also very colorful and called the rainbow billed toucan, this bird is an absolute reference when talking about Costa Rica. Seen in lots of ads, it makes people turn to look at them and makes it inevitable taking a picture when they appear, including that its behavior is social and friendly, makes it the most sought by tourists. It has a length between 40-55 cm and its beak can reach up to 17 cm, this species can be seen from Mexico to Venezuela and is usually seen accompanied in groups, rarely flying alone. Its distribution in Costa Rican lands ranges from the lowlands to altitudes of up to 2000 meters above sea level.
They usually nest in tree holes that can become quite narrow, as this helps them stay warm when they are in rainy climates or near the cloud forest.
The period of nesting of the females normally lasts between 12-20 days and they can put up to 3 eggs, and use holes in the trees made by them or naturally formed, when the chicks are born, both the male and the female take turns to take care of them and feed them. When they are born, they do not have feathers at all and are completely blind until 3 weeks; once they start growing it takes about 10 weeks to get out of the nest and start flying.
Some of the best places to observe these birds are the , the , Sarapiqui and .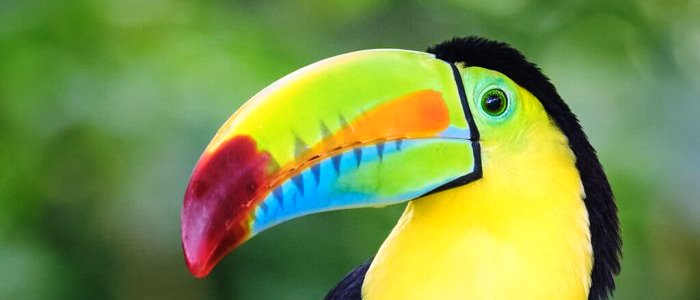 Black-mandibled toucan: (Ramphastos ambiguous)
The biggest toucan you will see in Costa Rica, sometimes it's confused by "Toco toucan" found in the pacific lowlands in Ecuador and Colombia, also called Yellow-throated toucan, it flies through Central and South America without going unnoticed. With a size between 45 and 65 cm and an average weight of 500 to 700 grams, this cute friend can be seen more frequently in Costa Rican lands near the Caribbean coast up to 1200 meters, and it's also very popular near the rainy Pacific slopes up to 1850 meters.
Their feathers are mostly black, having a very yellowish color that covers its chest and around their eyes are completely green, a species that we cannot leave behind among your list of birds to see on your visit to Costa Rica.
The best places in our country to see this species are the Northern Regions (La Fortuna, Bagaces, Upala), and .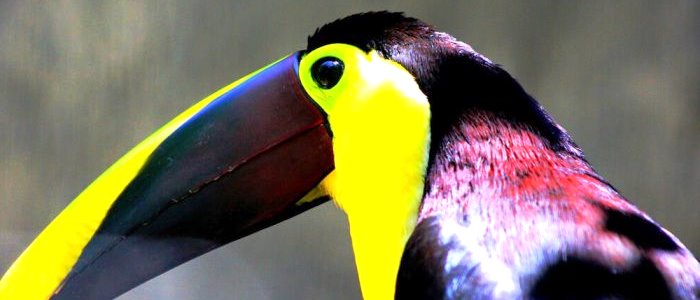 Fiery-billed Aracari: (Pteroglossus frantzii)
The fiery-billed Aracari is an endemic species found in southern pacific slopes of Costa Rica and western Panama, being one of the 68 endemic species found between these countries. As it's common between these species, this toucan has a very large bill, the adult is typically 45 cm long and weights around 250 grams. As the rest of the toucans found in Costa Rica, these guys are omnivores; their favorite preys are lizards, insects, eggs and chicks from other nests. With a wide mix of colors, its naked facial skin is black and becomes increasingly reddish behind the yellow eye with the upper jaw of the yellow beak. Its reproduction process is quite different to the other species too, they take advantage of an old woodpecker nest between 6-30 meters high and their breeding periods are the pretty similar to the other species.
The only places in Costa Rica to observe these toucans is Punta Burica, Playa Pavones, Dominical, and Corcovado National Park.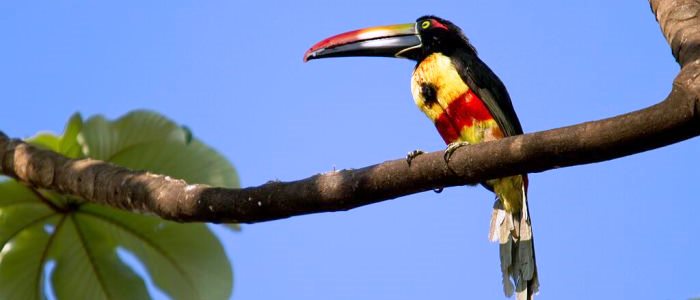 Collared Aricari: (Pteroglossus torquatus)
This toucan is quite similar to the Fiery-billed Aricari comparing them with their sizes, weight and style of life, but found in more locations including Mexico, Ecuador and Colombia. The skin of the uncovered face is black and turns red behind the yellow eye. The upper jaw of the beak is dull yellow, marked with a black saw pattern on the cutting edge and a black tip. The lower jaw is black and their legs are green, the adult is normally 38–41 cm with a weight of 270 grams, these features make them pretty similar to Fiery-billed. Their behavior is similar to its folks too, flying normally in flocks of 6-13 birds; they move through the forest direct and fast. The breeding is basically the same as the Fiery-Billed, the female incubates the eggs for around 16 days, they are born without feathers and blind, and their feeding continues after several weeks until the leave the nest and are ready to fly, always being assisted by their parents throughout this time.
The best regions in Costa Rica to observe this species are Sarapiqui, , Gandoca-Manzanillo and the Central Pacific Mountain Ranges.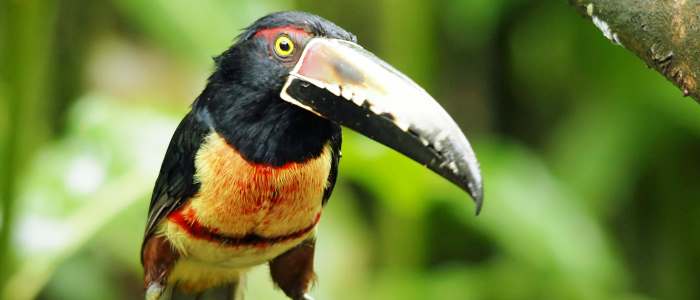 Emerald Toucanet: (Aulacorhynchus prasinus)
This nice friend is one of the smallest toucans found in Costa Rica and also the one that has the biggest extension in America, where you can observe it from Mexico to Bolivia.
It can measure between 30 and 35 centimeters and weighs between 180 to 200 grams, male and female are practically the same, are usually seen between high elevations and humid climates and are mobilized in groups of 4 to 10 individuals, having as a custom to follow a leader.
Their breeding process is very similar to the other toucans, they are born without feathers, they are blind and their nests are natural cavities or an old nest of woodpecker, and among their most striking features is that they usually look for quetzal nests to eat their eggs or their pigeons, although their primary diet is fruit, and due to their green color it could be difficult to see them among the trees and those who have the eagle eye could take advantage of it.
The best places to see these beautiful toucans are the Cloud Forest areas of and the higher parts of the Central Volcanic Range.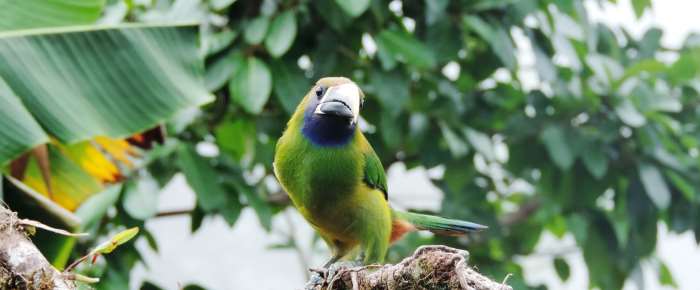 Yellow-eared toucanet: (Selenidera spectabilis)
And the last, but not the least important, is the yellow-eared toucanet, this species has been one of the most followed in Costa Rica in the last 2 years for a curious reason, and is that thanks to their shy behavior it has been one of the less studied species in our country until the year 2016, when in a private property near the Braulio Carrillo National Park a group of naturalist guides saw what looked like the nest of a pair of toucanets, and it is until that moment that they are followed and a group of scientists began to document their behavior and the birth of their chicks in a more detailed way. This small species of toucan only lives in the primary forest of Central America, Colombia and Ecuador, fact that reduces the possibility to see them around the forest, and makes them almost impossible to be seen around the forests.
The male and the female only differ a little, the male has a yellow auricular streak and the female has a brown crown, its diet like the other toucans is omnivore and its size very similar to the emerald toucan.
The best places to admire this rare species are the Arenal Volcano National Park area and the jungles of the Central Volcanic Mountain Range.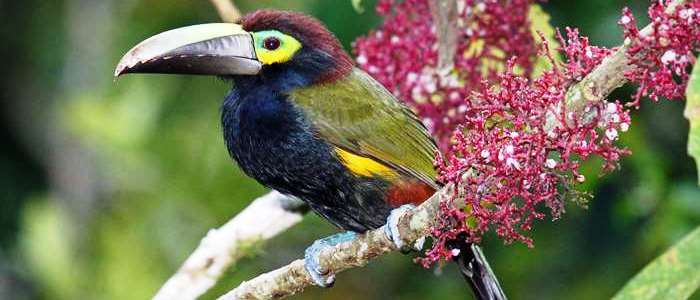 It is estimated that there are about 33 species of toucans in the world and there is no doubt that the toucans of Costa Rica are examples that teach us every day why we have to make efforts in conservation and bet on the reforestation of our lands, so in the future these beautiful species will be seen more frequently, and even get some of those out of the lists of endangered species